Strategic Plan
---
What are your business goals 3-5 years from now?
Most business owners have an idea where they want to be in 3-5 years. If not, this is even more important for you. The key to this process isn't so that your 3-5 year plan is set in stone. What revenue, profit, growth rate and market cap do you wish to achieve in 3-5 years? Market cap refers to what your business will be worth. You may be a long way from retiring or selling your business however there's no time like the present to begin planning for succession. Knowing the market today for your business, the multiples that drive the value of your business, you can prepare for the future and even build the business growth toward the favorable business cycle that drive potential business sales.
In this same column as your 3-5 year plan is your sandbox. Your sand box is a marketing decision that focuses on the answer to three questions:
Where will you sell? [Sales Territory]

What will you sell? [Product Lines] and

Who will you sell to? [Customers/Distribution Channels]
The Strategic Planning Process
Nowadays in highly competitive environment the business have to follow their "Road Map" to be successful. In other words, engage in Strategic Planning that clearly defines the company's objectives. Strategic planning process involves defining a mission, establishing goals and objectives, and creating strategies to attain those goals and objectives.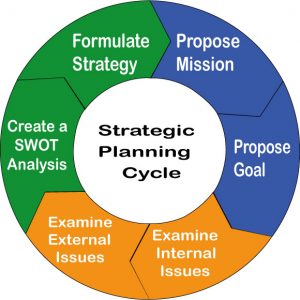 Propose Mission
The first thing that a company will need to do in the planning process will be to propose a mission. Also known as mission statements, missions outline the unchanging values and purpose of the firm in addition to the forward-looking visionary goals that are an integral part of the pursuit of future opportunities. When the values and purpose of the company are combined with the visionary goals, they form the company's business vision. Company leaders can use the business vision to make reasonably attainable financial and strategic objectives. Financial objectives can include such things as sales targets, earnings growth, and debt or loan repayment. Strategic objectives can be things such as market share and reputation.
Propose Goals
After the company has proposed and established their mission, they are free to propose goals that they want to reach. These goals may include things like establishing a solid customer base, perfecting marketing techniques, creating a loyalty or rewards program, or expansion timelines.
Examine Internal Issues
The next step for companies to take after proposing their goals is to examine internal issues that could affect the company's performance. After these issues have been identified, management can choose which issues they will focus the strategic plan on.
Examine External Issues
In addition to internal barriers to success, the company will also need to examine external issues that could affect their chances of surviving. Examples of external issues that could affect the survivability of the company are regulation changes and the needs of the client population changing.
Create A SWOT Analysis
Define your company's Strengths, Weaknesses, Opportunities and Threats (SWOT) that are involved in a business venture. During the SWOT Analysis consider your products, location and industry. Specify the objectives of your business venture and identify the factors that can affect your business.
Formulate A Strategy
The final step in the creation of an effective strategic plan is to formulate a strategy for the company, with the strengths being as appropriately matched as possible with the opportunities that are available to the business, while taking time to address both the weaknesses of the business and the threats to it.
Need Help? Make an appointment for a CONSULTATION