Business Sale
How can we get you the best price for your business?
Selling of a business successfully is an event that requires the use of a professional intermediary. CTL Business group will work with you throughout the process to achieve a successful outcome. We provide a combination of experiences, relationship and knowledge for our clients. We custom-tailor and develop our clients' selling strategies.
We have connections all across the world, with offices in Canada, USA, and Taiwan. Using our global network of business connections, we will ensure that you get the best price for your business, locally or abroad.
Why should you use a business broker instead of a realtor when selling a business?
You may be surprised to hear that business brokers and realtors have very little in common. 
A real estate agent's number one priority when selling a home or property is exposure. The more exposure the better. With a focus on putting the listing in front of as many prospective buyers as possible, realtors rely on public listings, yard signs, among other types of public exposure - The goal is to tell the world all about the property that is for sale.
A business broker relies on very different marketing techniques. Not only do business brokers have a more intimate understanding of the inner workings of the business process, they also have a real understanding of the importance of confidentiality in business. Without confidentiality, a business could lose employees, vendor contracts, or even clients. Investors and consumers alike worry about the unknown, hurting the bottom line. 
Only a business broker will be able to put together the best marketing package, ensure that confidentiality is maintained, help you with everything from licensing to leases, and act as a buffer between you and the buyer during any negotiations.
What we provide
We understand that depending on the nature of your business, your circumstances as the business owner, among countless other factors, the range of services you may need can vary widely. CTL has an experienced team of business brokers that specialize in a wide variety of practices and skill sets, which will be able to help you through the planning step, forming a sale strategy, completing the actual sale of your business, and assisting you through the closing stage.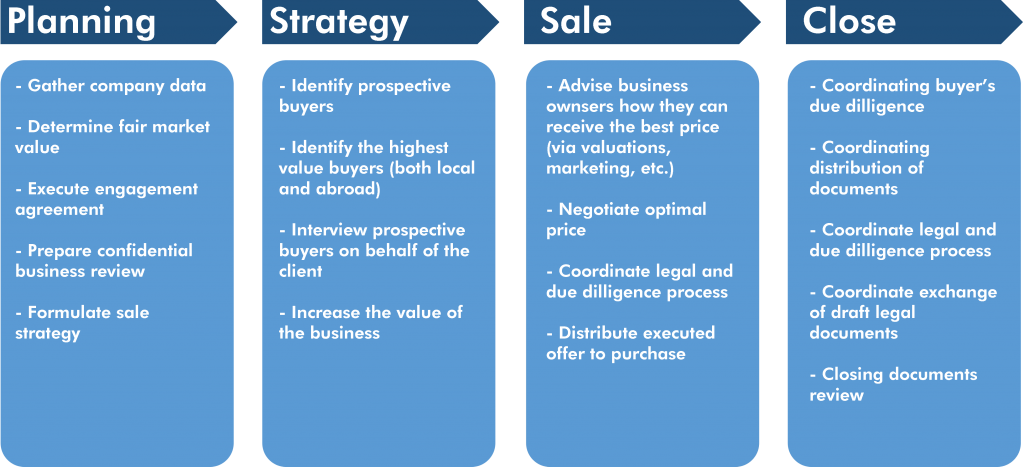 We provide business owners with with advice on how to sell their business, maximizing the value of your business, preparing for sale, and finding the right buyer for you. Perhaps one of the most important services provided by our business brokers is the ability to allow you, the owner, to remain focused on your business during the sale process - a process that can take an average of 6 to 12 months.
So what does all this mean for you? It means that by selling with CTL, you can be absolutely certain that you will get the best possible price for your business when you decide to sell - whether that is locally or overseas.
Do you know what your business is worth?
Now that you know how we can help you sell your business, are you curious about what your business is actually worth? Take advantage of our free valuation calculator to get an idea.
Are you ready to sell your business?
Use our business sale form to jump start the process. Our form will help us connect you with prospect buyers and interested parties, leading to the best result for you and your business.